As technology advances, our cars are becoming ever more complex. For instance, cars no longer use the simple metal key to open and drive. Oftentimes, a professional car locksmith is needed to secure vehicles with complex locking systems and modern security features. As such, the experience and tools a professional car locksmith provides are crucial for dealing with any car lockout or key issues that may arise.
Are you stuck in a tight spot due to a car lock-related plight? Then choose a professional car locksmith to help you decide. This decision will safeguard both your vehicle and your peace of mind. Are you curious to uncover the secrets of car locksmithing? If so, dive deeper into the rewards of enlisting an automotive locksmith with this feature.
Understanding the Role of a Professional Car Locksmith
From addressing issues with vehicle locks and keys to honing specialized skills, a car locksmith fulfills a nuanced role. Delve into this profession to explore the essential knowledge required and the primary responsibilities involved.
Vehicle Lockouts: Car locksmiths excel in resolving lockout situations. They use expert techniques like lock picking and specialized tools to regain vehicle access without causing damage.
Key Replacement and Duplication: A car locksmith can assist you if you have misplaced your car keys or need an extra set. They can create duplicate keys by cutting and shaping them to match the specifications of your vehicle's locks. Also, they can provide replacement if your original keys are damaged or broken.
Key Programming: Many modern vehicles utilize electronic keys, transponder keys, or keyless entry systems. Car locksmiths possess the knowledge and tools required to program these keys. They can synchronize the electronic key or remote with your vehicle's immobilizer system, ensuring it functions seamlessly.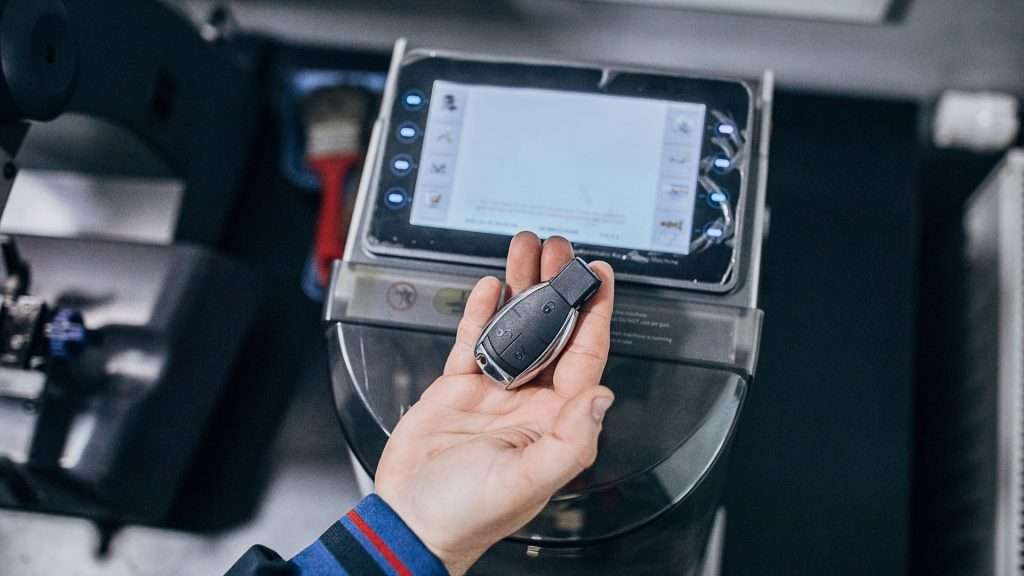 Ignition System Repair and Replacement: A car locksmith can address issues related to the ignition system. They can repair or replace faulty ignition switches to ensure your vehicle starts reliably. This expertise extends to key extraction from broken ignition cylinders, so you do not have to call a tow truck.
Lock Rekeying: If you suspect your vehicle's keys have fallen into the wrong hands, a car locksmith can rekey the locks. Rekeying involves changing the internal lock mechanism to render the previous keys ineffective. In other words, only the new set of keys will be able to unlock your car doors. Thus, it offers a smooth and safe driving experience so you can enjoy the roads with inner peace.
Choosing the Right Professional Car Locksmith
Choosing the right professional car locksmith is crucial to ensure reliable and quality service. Therefore, consider the following factors when selecting a car locksmith:
Research and Recommendations: Begin by conducting actual research. Start with your family and friends and those who have had positive experiences with car locksmiths. Then check online websites to see how reliable each one is. That way, you can gather insights into their reputation based on their online reviews and ratings. Explore the different locksmiths in your area to make the best choice.
Licensing and Certification: Verify that the car locksmith you hire is certified. A reputable one will have the right credentials to show they can do the job properly, according to industry standards. That way, you can be sure they have been trained properly and are knowledgeable enough for the job.
Insurance and Bonding: Inquire whether the car locksmith is insured and bonded. The insurance covers damages during the service, while the bond guards against any misconduct or negligence on the locksmith's part.
Specialization in Automotive Locksmithing: If your vehicle needs a lock or key system, find an automotive locksmith with special expertise to help you. This type of locksmith knows exactly how to handle your car situation in the best way. So, make sure to choose someone who specializes in automotive locksmith services.
24/7 Availability and Response Time: As emergencies can happen anytime, choosing a car locksmith who offers 24/7 availability is essential. Confirm their response time for emergencies to ensure prompt assistance when you need it most.
Transparent Pricing: Request a detailed estimate or pricing information before hiring a car locksmith. A reputable locksmith should offer a clear price with no hidden fees or surprises. However, be cautious of significantly low prices as that may indicate subpar service quality.
Benefits of Choosing a Pro
Professional car locksmiths have the skills and knowledge necessary to provide key solutions for your car. Moreover, they understand how various locks and keys work. They know how to cut new keys for a perfect fit or even program electronic keys or fobs when needed. Plus, they work using specialized tools and equipment to complete the job. With an experienced car locksmith, you can rest assured that your car's security is in good hands.
Are you locked out of your car? Need a car key replacement, or are you facing an urgent locksmith situation? Then look no further than Sherlock's Locksmith, your trusted automotive locksmith experts serving Pittsburgh, PA, and the surrounding areas. You can count on us for essential emergency locksmith services, including car key replacement, key extraction, and car lockout.
Never let car lockouts or key-related headaches ruin your day. Our team can answer all your queries and schedule your service. To provide more details, contact Sherlock's Locksmith now to experience our reliable and efficient car locksmith services.