Commercial Locksmith Services in

Pittsburgh, PA
Sherlock's Locksmith Pittsburgh is a reliable and trusted business that specializes in providing high-quality lock and key services to commercial enterprises of all sizes in Pittsburgh. Our team of professional locksmiths have years of experience in installing and maintaining the latest locks, ignitions, and other security systems for companies, retail shops, office complexes, fleet vehicles, warehouses, and more. Besides our comprehensive services, we also offer 24/7 emergency locksmith services so you can rest assured that your business will be secure no matter the time or day.
When it comes to securing your business assets, Sherlock's Locksmith Pittsburgh provides a wide array of solutions tailored to suit your specific needs. Whether you require traditional key-operated locks, innovative digital locks with card access control systems, or sophisticated biometric authentication systems—we have it all. We understand the importance of having safe and reliable locks on your property so that employees can work with no security concerns. That is why we only install top-quality hardware from leading brands.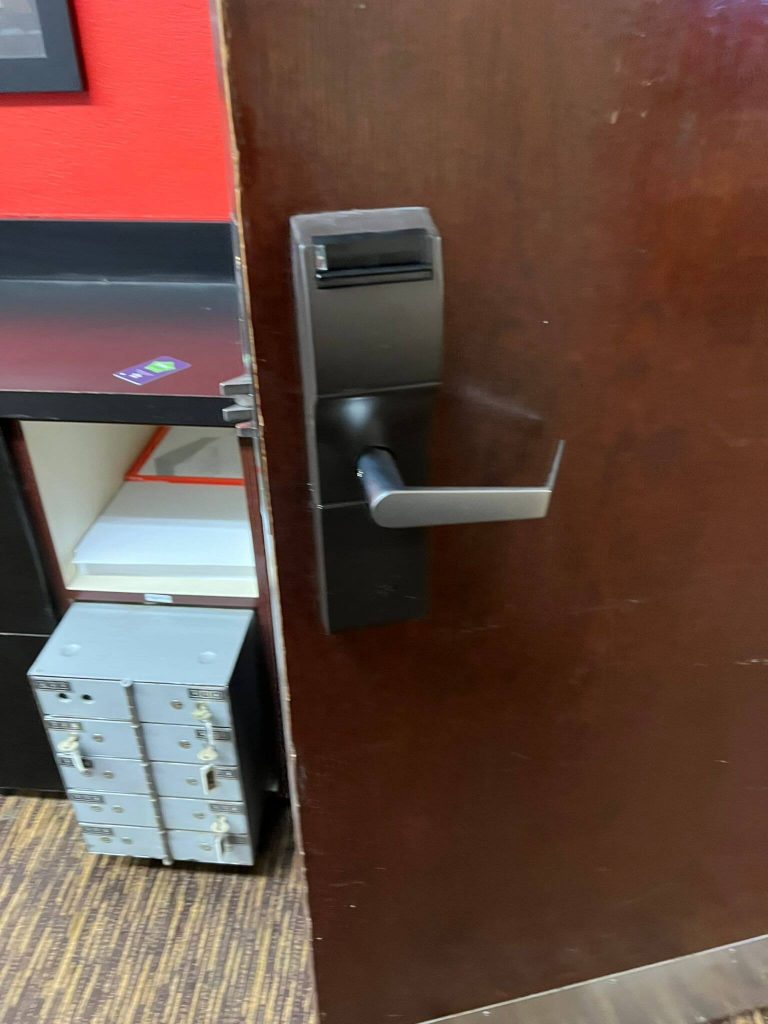 Affordable Commercial Locksmith In Pittsburgh, PA
Keep your Pittsburgh business or commercial property safe and secure with Sherlock's Locksmith! Our team is known for providing excellent craftsmanship, affordability, and friendly service. We have been helping our valued customers protect their properties for many years, an experience that cannot be matched elsewhere. Whether you need master key systems installed, commercial door hardware fitted, access control set up, or alarmed exit devices monitored—we have got you covered. Our reputable locksmiths are certified professionals and have the expertise to deliver all of your commercial locksmith needs!
Commercial Lock and Key Services
Like any urban area, Pittsburgh is not exempt from criminal activities such as burglary. The security of your business or commercial property hinges on the effectiveness of your locks, which serve as the initial barrier against the risk of theft. We offer a comprehensive range of lock and key solutions, which include:
Lock installation and repair
Key duplication and cutting
Lock rekey

Door lock repairs

Fresh installation

Exit device installation/repair

Deadlock/deadbolt lock

High-security locks

Electronic locks

Magnetic locks

Keypad lock

Grade locks

Padlocks

Key cutting service

Key duplication

And more!
If you need commercial locksmith services such as keypad installation or additional keys for your maintenance staff, our experts are here to help. We use high-quality lock and key brands to ensure our customers receive nothing but the finest materials available. Let us come directly to you so that we can provide an unmatched customer experience with quality results!
Let Sherlock's Locksmiths help you enhance the safety of your commercial building or property. We can help find locks and security systems tailored to your specific needs and budget. With our expert guidance, you can have peace of mind knowing that all aspects of your business remain secure and protected.
Top Commercial Locksmith Solutions in Pittsburgh, PA
As a business owner, you must have complete confidence in properly functioning security and door hardware. When it comes to installation, replacement, or repair services for these essential components, rest assured that we have you covered. Our skilled locksmiths will source the ideal products for your specific requirements and ensure their flawless performance. We specialize in the installation and repair of a wide range of components, including:
Door lock hardware

Door closers/concealed door closer

Door access control

Exit devices

Crash bars

Panic devices

Badge readers

Alarmed system

And more!
We are proud to say that over the years, our commercial locksmith Pittsburgh professionals have built up a solid reputation as one of Pennsylvania's most dependable commercial lock and key specialists. Our dedicated team of experts is deeply committed to delivering exceptional customer service. We offer transparent guidance on product selection that aligns perfectly with our customers' requirements, all while ensuring affordability.
Sherlock's Locksmith is your go-to choice for swift and budget-friendly commercial locksmith services. Contact us today for secure solutions that will not strain your wallet!