Sliding door locks are an effective and easy way to protect your property from possible intrusion, theft, and other dangers. With an easy lock installation process and a range of security levels, these hardware are a cost-effective way to enhance security and give you peace of mind. Sliding door locks come in many styles, shapes, and sizes to fit any door. They also have several advantages over traditional door locks.
You are on the right page if you plan a sliding door lock installation project. This blog will talk about the different kinds of sliding door locks, how to choose the best one for your home or business, and the benefits of installing one. By the end of this piece, you will know more about how to use a sliding door lock to keep your property safe.
Sliding Door Locks: A Simple Security Solution
Sliding door locks are bars or latches that go into the track on the floor or wall of the sliding door frame. Attached to the top or bottom of the door and frame, they secure the door and make it hard to open. You can lift the bar or unlock the latch to open the lock from the inside.
Types of Sliding Door Locks
Standard keyed lock
Standard keyed locks for sliding doors are cylinder locks and mortise locks. The most popular exterior sliding door lock type is the cylinder lock, which can have one or two keyholes on each side. On the other hand, mortise locks are safer because of their placement in a pocket in the doorframe.
Hook locks
It is common to put hook locks on sliding doors at the top in order to make them safer. They have a hook that sticks out from the frame and locks into a strike plate on the door. Thus, making it impossible to open without a key.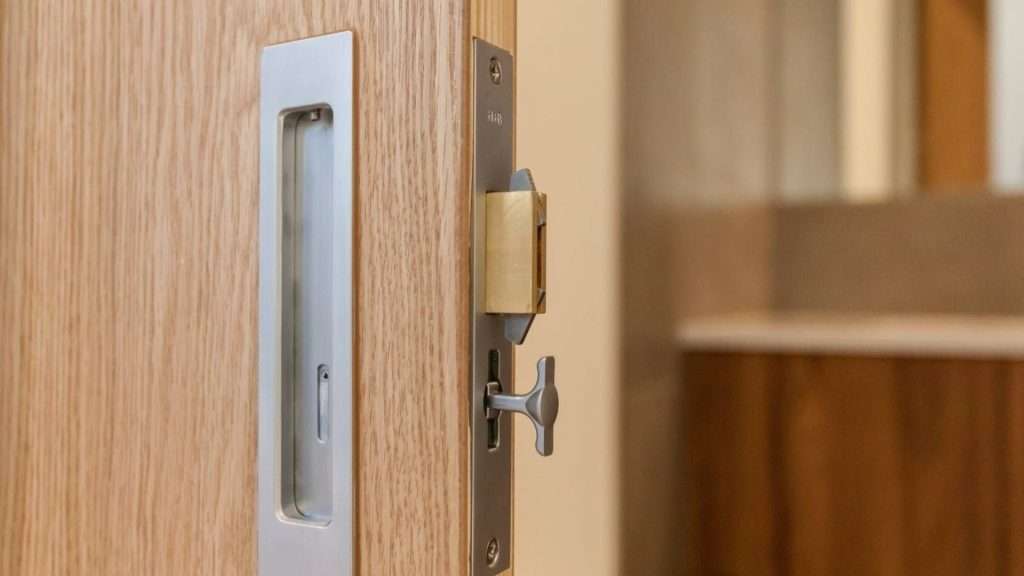 Barrel bolts
Barrel bolts are cylinder-shaped bolts attached to the door frame. Once the door closes, the bolt goes into the frame and locks the door in place. Usually, barrel bolts serve as an extra lock on sliding doors like patios, barns, and other sliding doors. So if you do not want a sliding door lock with a key, these locks are a good choice .
Spring latch lock
Spring latch locks prevent sliding doors from opening without a key or combination. They usually have a small metal pin that goes into the door wall and holds the door shut. Spring latch locks add an extra layer of security and can combine with other locks like deadbolts or key locks.
Push button locks
Push button locks for sliding doors require entering a code or pushing a button to open the door. They are common on business and industrial sliding glass doors because they make locking and unlocking the door easy and safe.
Electronic locks
Electronic locks operated through advanced technology offer a secure solution for sliding doors. They feature a keypad or card reader to access the door. These locks are often used in homes and businesses to add protection and control who can get in and out.
How to Choose the Best One for Your Home or Business
Before you choose a lock for your sliding doors, consider how much security you need. Consider how big the door is, what kind of door it is, and what it is made of. Remember, different locks will offer different levels of security. Also, consider the design and aesthetic of the lock. Some door locks will look better than others in terms of style. Lastly, think about how easy it is to set up. You may find some locks are easier to install than others. Hence, it may be better to hire a professional to install more complicated locks.
Sliding door locks are harder to pick or jam than regular door locks. Also, these locks are cheap, which makes them a good way to keep your property safe without breaking the bank. Once you have decided and are ready to call for a door lock installation service, Sherlock's Locksmith is here. We are a premier locksmith service provider in Pittsburgh, PA. Whether you need a standard lock or a more complex locking mechanism for your sliding door, we are the professionals to call. Contact us today to learn more about our services.