The security, accessibility, and functionality of companies and businesses depend on the commercial door hardware they use. Understanding commercial door hardware is important for both business and property owners. That includes knowing how locks and key systems work and the different components that make up a strong door system.
Are you a business owner or property manager who relies on commercial doors for security? Then, this guide will give you a quick rundown of the most important aspects of commercial door hardware. Join us as we unravel the world of commercial door hardware, looking at its parts, how they work, and why they are important in business and property management.
The Importance of Commercial Door Hardware
Commercial door hardware is an important part of keeping your commercial space safe, functional, and looking good. These parts, such as locks, handles, hinges, and closers, are necessary to keep the entry and exit points of your building safe. Strong, well-designed hardware enhances security and contributes to accessibility and user experience. In addition, it is a very important part of following safety rules and building codes. 
From a design point of view, picking the right door hardware can make your commercial space look better, which will make a good impact on customers and guests. Therefore, investing in high-quality commercial door hardware is not only a sensible choice but also an important part of making a place safe, welcoming, and visually appealing.
Choosing the Right Hardware for the Right Commercial Door
It is very important to choose the right hardware for commercial business doors. The right hardware ensures security, compliance with regulations, durability, accessibility, and functionality. It makes the experience better for users, looks better, and can save money in the long run.
Commercial spaces can have strong locks for safety, ADA-compliant handles for ease of use, or weather-resistant parts for long-lasting use. No matter the purpose, picking the right hardware is a very important task that has a direct effect on the safety, efficiency, and general effectiveness of your commercial space.
Key Components of Commercial Door Hardware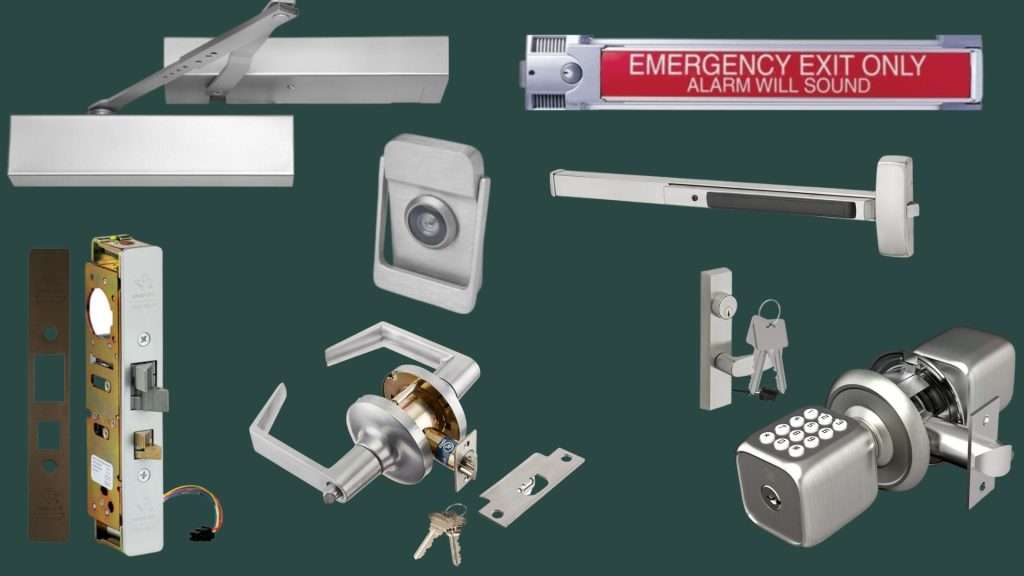 Commercial door hardware is made up of different parts that are necessary for a commercial door to work properly and stay safe. Here are the most important parts:
Door Handles or Knobs
These parts of a door are the ones people see and use the most. Knobs or handles make it easy for people to open and close the door. For ease of use, commercial doors often have lever door handles.
Door Handles or Knobs
These parts of a door are the ones people see and use the most. Knobs or handles make it easy for people to open and close the door. For ease of use, commercial doors often have lever door handles.
Locks
Locks are crucial for security. Commercial doors may have various types of locks, including deadbolts, cylindrical locks, mortise locks, or electronic access control systems. These locks can operate with keys, key cards, or electronic codes.
Door Hinges
Commercial door hinges are often heavy-duty to withstand frequent use. They come in various types, such as butt hinges, continuous hinges (or piano hinges), and pivot hinges.
Door Closers
Door closers control the speed and force with which a door closes. They ensure the door closes softly and firmly behind people, which is good for safety and ease of use.
Panic Bars (Exit Devices)
Often found on commercial doors, especially in public buildings. Panic bars make it easy to get out quickly in an emergency. Usually, they are straight bars that let the door open when pushed.
Thresholds and Weatherstripping
Thresholds are usually at the bottom of the door to make a seal that keeps air and water out. Put the weatherstripping around the door frame to keep out the weather and improve ventilation.
Kick Plates
These metal plates, installed on the lower part of the door, protect it from damage caused by foot traffic or pushing with heavy objects.
Door Stops
Door stops prevent doors from swinging too far open or too far closed, protecting the door and the surrounding walls.
Peepholes or Viewers
Common in commercial entry doors, these small windows allow users to see who is outside before opening the door.
Electric Strikes and Magnetic Locks
These door hardware are common in electronic access control systems. Electric strikes release the lock when it receives an authorized signal, while magnetic locks use electromagnetism to secure the door.
Push Plates and Pull Handles
These components, often used on glass doors, facilitate easy opening and closing.
Access Control Systems
These include key card readers, keypads, and biometric scanners for controlling who can enter a building.
Door Closer Arms
These are parts of the door closer mechanism responsible for controlling the door's movement.
Factors to Consider in Choosing the Right Hardware
Here are some important things to keep in mind when picking out business door hardware:
Security Requirements
Depending on the type of business you run, you may need high-security locks, access control systems, or hardware for emergency doors. Talk to a commercial locksmith to help you determine the best security steps for your needs.
Functionality
Different doors serve various purposes, including entrance doors, interior doors, and fire exits. Make sure that the hardware you pick fits the purpose of the door. For example, an exterior door may need weather-resistant hardware, while an interior door can have simpler components.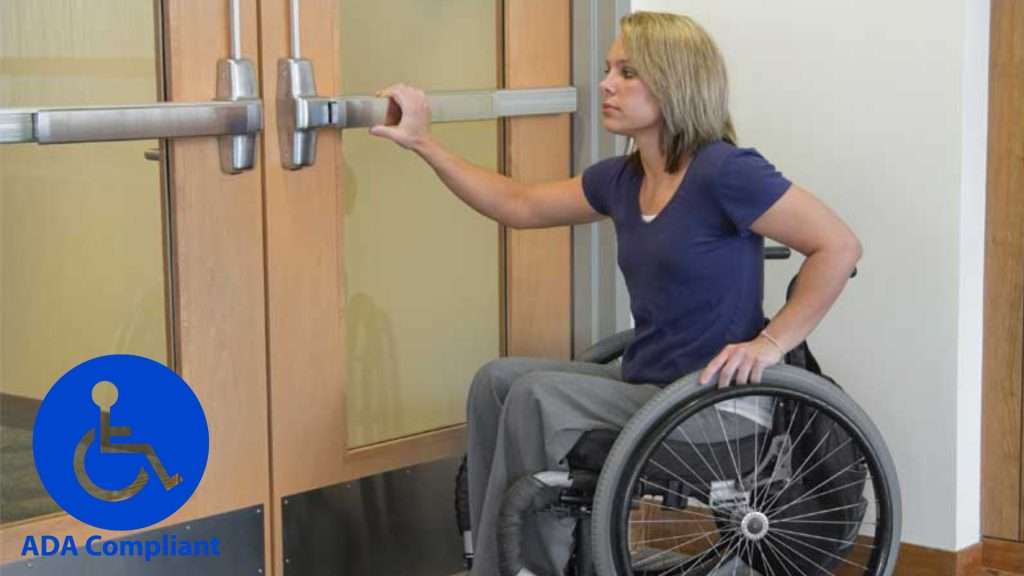 Compliance
Make sure the hardware you choose is legal in your area by checking the building codes and rules. That is crucial for fire exits and the Americans with Disabilities Act (ADA) rules. Not following the rules can cause legal problems and safety issues.
Professional Installation
Hire a licensed locksmith or door hardware professional to make sure the job is done right and that the hardware works. They can assess your needs and install the hardware correctly.
Are you tired of dealing with stubborn, unreliable locks at your business? Look no further! Sherlock's Locksmith is the only company you need to call if you are a business owner in Pittsburgh, PA, and you need the best commercial locksmith services. Our team installs and fixes commercial door hardware as our specialty, ensuring your business is safe and running smoothly. We offer 24 hour locksmith services to provide prompt and reliable solutions to all your needs. 
Do not compromise on the safety and accessibility of your commercial space. Get in touch with Sherlock's Locksmith right away and enjoy the peace of mind that comes with our professional expertise. We are here to give your business the best that it deserves. Call us now, and let us help secure your commercial doors!