Sherlock׳s Locksmith is proud to announce a successful keypad lock installation for a client in Homestead, PA. We are a locally owned and operated locksmith company in Pittsburgh that offers locksmith services for our clients. Our locksmith homestead services are available 24 hours a day and 7 days a week, so whenever there's an emergency such as home lockouts, anywhere in the Pittsburgh region where you are, our locksmith will get there as soon as possible.
Our technicians have years of training under their belts and are experts in their field. With our locksmith technology progressing every day, we must keep up to ensure that we'll provide the best service for our clients. From new innovations for locks in residential homes to businesses and cars, nothing is too difficult for our technicians. That is why our client asked us if we could install multiple, high-quality locks on his door and we did.
Our client was living in a rough neighborhood in Homestead, PA. Although the property crime rate has decreased over the last couple of years, there are still some rough places like any other city. He called upon our locksmith homestead services and upon arriving, we installed two new locks for his door as well as a pull handle.
Can Emergency Locksmiths Install Locks Immediately?
When you have an emergency, the last thing you want is to have to wait around while the professionals you call take their time getting to you. Luckily, with the locksmith homestead services, we're able to get you a fast solution in under 30 minutes. Our knowledgeable technicians are prepared for any situation that may arise and are able to handle lock repairs and upgrades quickly and efficiently. We'll work hard to ensure your security is restored as soon as possible.
If you have a new lock installed for your home and you've lost your keys, then it's best that you try to rekey your locks rather than replace them. It is a simple process that can be done in under 15 minutes. Our emergency locksmiths will realign the pins and springs inside the mechanism of your locks and a new key will be made that will fit that lock. It is also cheaper and faster than having a lock installed, which can take up to an hour.
Do You Need One Lock or Two? Three? Five?!
When it comes to the locks in your front door, you want it to be as secure as possible so any burglar will think twice before entering your home. But how many do you actually need? Would you go for five locks on your front door? The answer is simple. One or two locks are enough to deter any criminals from breaking in. Here's why:
High-Quality Locks - No matter how many locks you install, if it isn't as good as the high-quality locks you require, then they won't provide you any safety or security. A flimsy lock or an outdated one can easily be lockpicked by a novice lock picker. Instead, go for a known and reliable brand. At Sherlock's Locksmith, we install locks from known brands like Schlage, known internationally for their durability.
Poor Installation - A lock will keep your home secure. If you or someone installed your locks poorly, then it won't work as intended. Our locksmith homestead services offer high-quality lock installation that will keep your home safe and secure. We offer services for residential and commercial clients in Homestead, PA. Our services include key duplication, master key systems, door repair, and lock installation.
Door Integrity - We are not door installers. That is not our expertise. We are, however, experts in lock installations. And locks need to be installed on a strong door. If you notice that your door is very old or worn down, it's time for a new one. A simple kick from a 130-pound person and now you have no door.
Now we've recently stated that you need high-quality locks installed on your doors but how will you know which one? Well, there are 5 common locks that are reliable that you can choose from.
The first one is Deadbolt Locks. The most common, cost-efficient, but one of the most effective lock hardware you can have.
The second is Knob Locks. While the standard knob lock is convenient, it won't repay the investment you've made. It can easily be broken into with a hammer or anything solid. Use it for any room in your house but not the front or back door.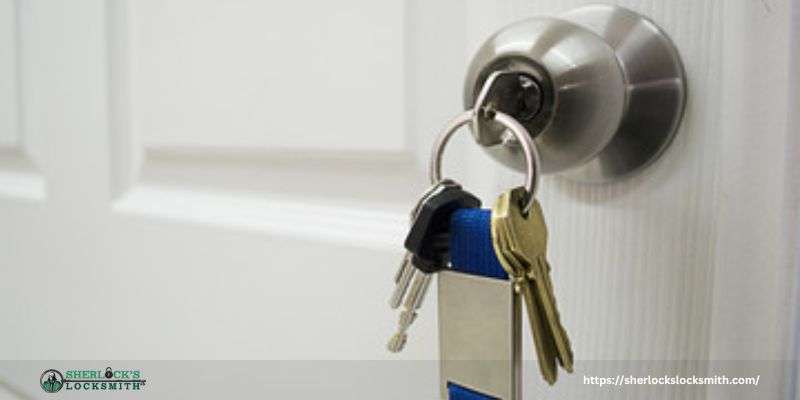 The third is Mortise locks. These are powerful locks integrated into the edge of the door that either houses knobs or levers to provide a powerful combination for security.
The fourth is Smart Locks. Smart locks are the most technologically advanced lock hardware that can be accessed via phone or key fob. However it functions on batteries so be sure to replace them every 6 months.
And last of the common locks are Keypad Locks. Like the one we installed recently for our client, keypad locks can be opened with the keypad as well as a key. Although battery-powered, it utilizes deadbolts, knob locks, or mortise locks for the mechanism.
Lock Installation Services
At Sherlock's Locksmith, we offer a multitude of services to make sure that your lock system is working properly and securely. From Deadbolts, Knobs, Mortise Locks, Smart Locks, Keypad Locks, and more, our expert locksmiths are highly trained in the installation of all types of locks. We also provide an array of emergency locksmith services available 24/7 to ensure that our customers receive fast and reliable solutions.
Our staff constantly stays up-to-date with the latest tools and knowledge in order to deliver top-quality customer support for any type of lock issue. When it comes to security, trust the experience and quality of Sherlock's Locksmith.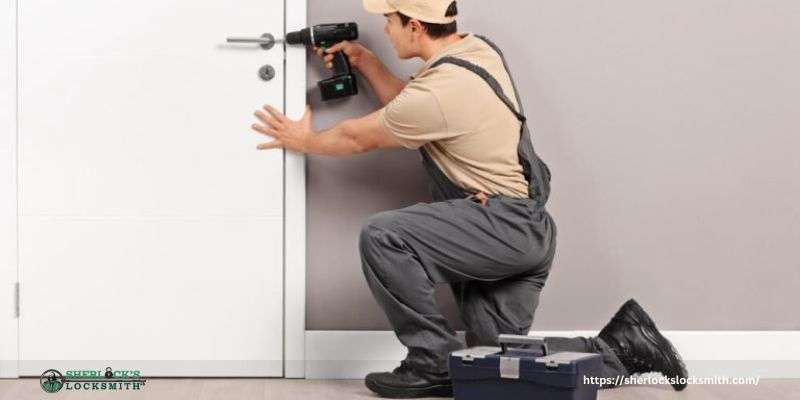 Do You Need A New Lock? Choose Sherlock's Locksmith!
Sherlock's Locksmith is your go-to provider for quality, dependable locksmith services in Pittsburgh. We provide everything from the simplest of key-cutting services to installing high-security locks for commercial locations. We understand that security needs may be complex and varied for businesses, homes, and vehicles. That's why our technicians are highly knowledgeable in the field so they can offer the best service possible that covers anything you need! In addition, we specialize in car keys regardless of make and model while also providing lockout services as well as rekeying, extractions, and repair & replacements.
If you need something more intricate, we also offer transponder (chip) keys and high-security locks suitable for homes or commercial spaces. You can always rely on us to meet your security needs with quality service - so don't hesitate to contact us! Our Locksmith Homestead Services can install any type of locks you desire - give us a call today!
Gallery